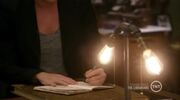 The
Appointment Book
is log held in
the Library
designed to inform librarians about engagements for future created by Former librarians. Since the library works on- time scale much longer than the human lifespan the appointment book allows librarians to leave messages behind so that future generations of librarians can finish their work.
Appointments
Edit
Use the capacitor that had been charging for 100 years at the Collins Falls Dam to reintegrate the out of sync Wardenclyffe Falls residents into our dimension.

 

 

Retrieve the Angrboda Crystal  After it reforms.
 

AppearancesEdit
The LibrariansEdit
Season 1  
Edit
Ad blocker interference detected!
Wikia is a free-to-use site that makes money from advertising. We have a modified experience for viewers using ad blockers

Wikia is not accessible if you've made further modifications. Remove the custom ad blocker rule(s) and the page will load as expected.