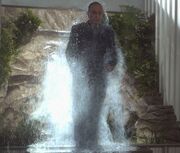 The 
Fountain of Youth
is a magical fountain housed inside
The Library
. Many cultures have legends about it.
Healing Waters: People who bathe in the Fountain stop aging, or have their youth restored.
Real Life Counterpart
Edit
The Fountain of Youth became a very popular legend in the 16th Century, when the Spanish explorer Ponce de León supposedly tried to find it. It is still common in popular culture.
In the movie, the fountain came from Florida, which was discovered by Ponce de León in real life.
Jacob Stone keeps a hidden stash of beers in the fountain of youth