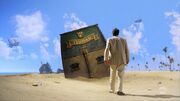 The
Tibbar
was a 19th-century ship that sunk in the Bermuda triangle.
On May 20, 1886, the Tibbar departed from Southhampton, England to New York. The 19th-century librarian Teddy Chislington gained passage on the ship with the intention of bringing the Eye of Ra and the rest of the stolen Petrie collection to the library. On June 4, 1886, Chislington and the 88 other passengers of the Tibbar were caught in the perfect storm and the ship was pushed into the center of the Bermuda Triangle and sunk. Chislington created a Lewis Carroll inspired extra-dimensional magic safe in order to protect the Eye of Ra. The ship's remains were left in the "Looking Glass Rabbit Hole" where they remained until Flynn Carsen discovered them.
Appearances
Edit
The LibrariansEdit
Tibbar spelled backwards is rabbit.
Ad blocker interference detected!
Wikia is a free-to-use site that makes money from advertising. We have a modified experience for viewers using ad blockers

Wikia is not accessible if you've made further modifications. Remove the custom ad blocker rule(s) and the page will load as expected.